On Trend Kitchens Gloss White or Grey Cabinets & Modern Units
The kitchen colour scheme will comprise of the colour of the walls, kitchen cabinets, flooring, and worktops. The choice of kitchen colour will determine a lot when it comes to the interior design of the kitchen. It defines whether the kitchen units will have the look and feel that you require when working in the cooking area. We know not all people have a blank canvas to start from when designing the interior of a new fitted kitchen. There are several factors which influence the kitchen colour hence you should take them into consideration in your new fitted kitchen interior design. Some of the factors which influence the colour and the style of your kitchen include the following:
Your homes theme
You may have a natural inclination towards retaining the existing style of your home. For example, if you have a Victorian or Georgian house, you may prefer to continue the traditional theme in your fitted kitchen rather than going for something more contemporary. Retaining the style of your home in your fitted kitchen design can save you money and maintain the traditional look of your home.
Kitchen light source
The colour scheme of your kitchen is influenced by the amount of light the kitchen receives. If you have a poorly lit kitchen, then lighter colours are recommended. Light colours tend to enhance the light in the kitchen hence making you have brighter surfaces to work on when in the kitchen. They also make the room feel brighter and larger. If you have a small kitchen, bright lights can create the feeling of a large room within a smaller space.
Which way your kitchen faces
A colour scheme can look outstanding in one room and fail in another. The quality of light depends on where your kitchen is facing, for example, if the kitchen faces north, southwest or east, then the effect of light in the kitchen will be different. The light quality affects the way your eyes see the colours, hence it affects the light conditions in the room. The quality of light in a room can change the tone as well as the mood of the room. North facing rooms will tend to have limited but consistent bright lighting. East facing rooms tend to receive morning light, but they lose the light as the day progresses. West facing rooms receives light in the afternoon, but in the morning, they are blocked from the light source hence they receive a limited amount of lights. Due to changes in the quality of light entering the rooms, the perception of colour keeps changing from morning to the evening in different rooms depending on where they face.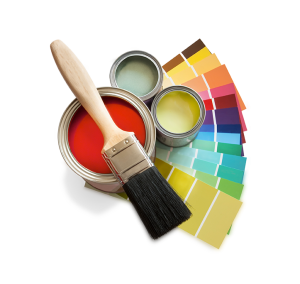 Colour undertones
The undertone of a colour is not recognised at once. It is the colour you see after several types of colours have been blended in the painting process. If you harmonise the undertones, the kitchen colours will stand out. But, if the combination fails, then you will face a failure in your coloured fitted kitchen. The combination of colours such as purple, light grey, blue and brown have cool colour tones. The combination of colours such as red, yellow, orange and green form warm colour tones. If you have a south-facing room where natural light is a plenty, then warm or even cool undertones can work well for the kitchen room. If the room does not receive a lot of sunlight, then warm colours will work well because they will prevent your room from feeling cold or dark.
Choosing the right colour scheme is very necessary for you when setting the right tone of your kitchen room. Choose your colours carefully and you will have a good-looking room with good ambiance. It may seem a simple process, but it will define the success or failure of your kitchen remodeling process.
There are several colour principles you can follow to determine the effect of different colours on a room. Some of the principles you can employ in your colour scheme choice include the following:
White Fitted Kitchen Units & Cabinets
White is among the most popular colour choices in fitted kitchens. Many people opt for the colour due to its properties such as cleanness, freshness and its ideal application on any room size because it reflects light. The light reflection effect helps in making the room feel bigger and bright. The colour is associated with purity. An all-white kitchen creates a crisp white tone. The choice of a light colour creates a de-cluttered look and a stylish contemporary kitchen design adds to the effect.
Some people perceive a stark white tone to be cold and impersonal. If you are facing the same problem, then you should consider an all-white kitchen which has warm undertones for your home. There are now numerous colour variations of white – warm and cool. The room comes to life when using a softer white with subtle pink or cream. To achieve a warmer overall finish, you can consider white cabinets which have a pure look and has an association with peace and serenity. Off white is the right colour for you to achieve the peaceful atmosphere in your white fitted kitchen.
White is very versatile. It works well in combination with other colour schemes and different textures. The colour is classically timeless, so it works well with the latest kitchen styles. For instance, a black and white contrast is ideal for the sophisticated and chic finish. It can make your kitchen stand out.
Trending Cream Fitted Kitchen Units & Cabinets
Just like white, cream is a calming colour with several variations. It is also very versatile as it can be used to create a stylish look in a modern kitchen. If you have a traditional kitchen, it can as also work well. You can generate a sanctuary and safe feel in your new fitted kitchen after you apply the homely comfortable cream colour. If you have a home where the kitchen is the center of focus in your home, then you need compliment your white fitted kitchen with splashes of contrasting colours. Tiles, splash backs, appliances, a white fitted kitchen will act as the perfect foil. People like to have a homely place for them to relax. The cream colour softens the room and is relaxing as you spend time in the kitchen cooking. Cream kitchen creates the ambiance for you to relax. You can combine the colour with warm wood tones to achieve a more traditional shaker style in your cream fitted kitchen.
Trending Blue Kitchen Cabinets
Blue is associated with calm and tranquility. It also creates a cool undertone if used badly it can appear cold or even uninviting. You should select your blue colour tone and decor with care if you like to achieve the best in fitted kitchen interior design. If you choose the colour combination well, it is easy to achieve the right mood in the fitted kitchen. We must use dark blue sparingly, this can absorb the light a make a small kitchen appear even smaller, but there are kitchens where pale blue has worked well. Pale blue works well for a south facing kitchen. It can make a room feel large, especially if you have a small room. Most homeowners prefer kitchens with pale blue colour combination with white gloss finishes. It creates a sleek and effortless cool kitchen design. If you prefer a slightly formal look, you can have pale blue with light grey kitchen tones.
A pale blue kitchen can as well work well with warm wood tones. The colour combination is ideal for a combination with wood tones. It creates a more traditional or even shaker style kitchen which produces the same calm feel. The ambiance in the pale blue kitchen can be enhanced with soft and neutral furnishing such as curtains, seats or even table clothes in your fitted kitchen.
Dark Kitchen Cabinet Colours (Dark Grey and Black Kitchen Designs)
If you love dark colours in a fitted kitchen such as anthracite, dark grey, brown and black. You are not alone; they are becoming increasingly popular with kitchen designers. These colours need treating with care and are best suited for kitchens which face south. They need a lot of sunlight to avoid cases where the room will feel small and too enclosed for you to work during food preparation process.
On trend Anthracite Dark Grey kitchen cabinets
Grey is associated with depression and dreariness. However, it can work well depending on your kitchen design. Even if you have a dark anthracite kitchen, light grey can be used to produce a beautiful and modern contemporary kitchen design. The combination can produce kitchens which are not too dreary. Depending on the way you play with the colours, you can come up with a kitchen which is elegant, sophisticated and rich.
Trending Black Fitted kitchen cabinets
Just like Grey, a kitchen painted in black is elegant. It can produce a stunning and sumptuous kitchen design. It is the idea for rooms with lots of lighting. It is necessary to avoid the room from becoming too dark. The kitchen in black can develop a serious tone, but it can be instantly enlivened with the splash and bold colour on the walls. You can as well apply coloured LED lighting or splash back to make the room lively. The effect introduces contemporary twist which is perfect for the larger kitchen or open plan spaces which are intended for more than cooking purposes. Remember in the fitted kitchen; you can have entertainment equipment while in the kitchen. They can be the best places for socialising as you prepare different types of meals.
Green Painted kitchen cabinets
Green is a rare kitchen colour choice. It has a calming effect and can appear very elegant which makes it ideal for kitchens. If you decide to go for green as your kitchen colour, then having the medium darker shade of green will play a great role. Common greens shades you can have in the kitchen include sage or even olive. The colour is also associated with nature and earthiness. The association gives it a subtle energy. For you to maintain the association green should be applied with other earthly colours. The colours you can combine with green induce grey tones among others. It depends on your light source if the room is facing the sun, then finding colours such as white and cream can work well. Natural wood tones on your countertops and flooring make the colour green work well in your fitted kitchen.
Neutral Colour kitchen cabinets
The neutral colour kitchens are very versatile. They work well with warm tones and textures. The colours can work for a kitchen of any room size. It works in different spaces irrespective of where the light is coming from. Typical contrast colours include a wide range of white colours, cream, cashmere, light grey and wood tones. The neutral kitchen colours tend to create a feeling of calmness hence comfortable for any room where you will like to create a homely feel. They are safe which does not mean they are boring. They work very well with bolder colour scheme patterns in any fitted kitchen. If you like to add some flare of vibrancy in your room, the colours can play a great role.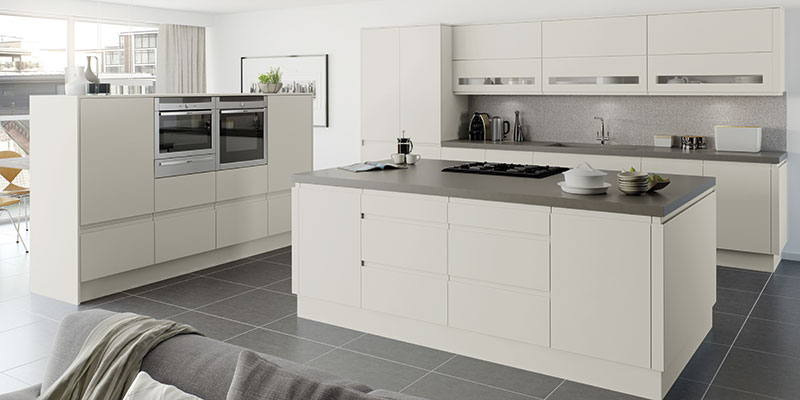 Moda Platinum Matt Kitchens
Moda matt Platinum handleless door you can create an envy-inducing kitchen in any home.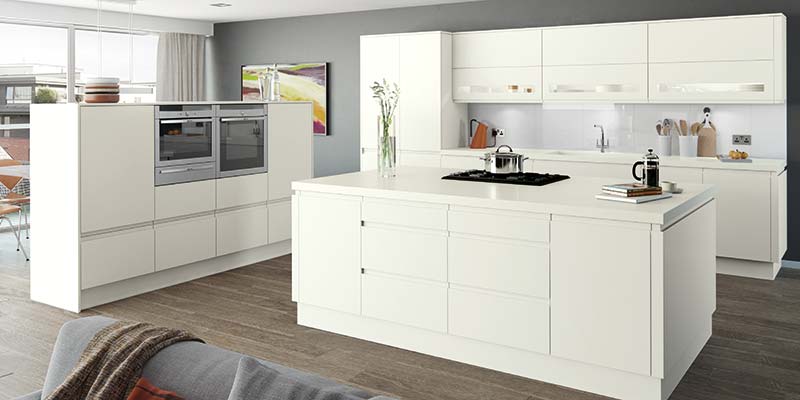 Moda White Matt Kitchens
For a minimalistic yet cutting-edge kitchen design, choose our Moda matt White handleless kitchen cabinet. This simple but stylish design is easy to accessorise with and will have your home looking contemporary in no time.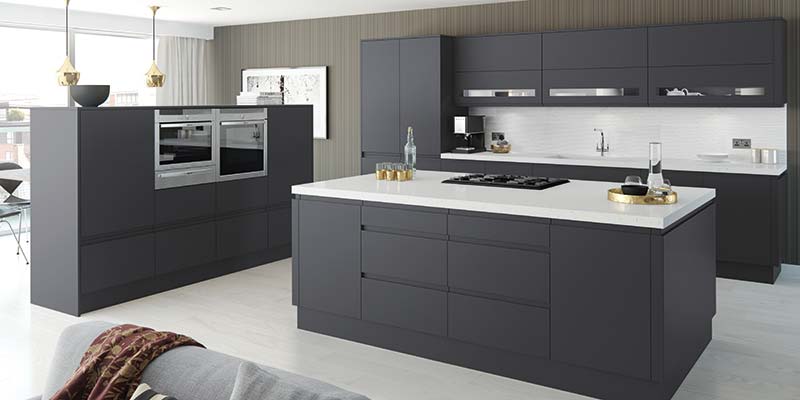 Moda Anthracite Matt Kitchens
Refreshingly different
kitchen collection
, it offers both style and comfort to the design-conscious customer.
So what kitchen colour scheme to choose?
On trend Kitchen Collection advise you to think critically and choose the best colour scheme for your kitchen and cabinets. You should take into consideration factors which influence whether your colours are likely to work in your kitchen, as all colour effects are different. Different colour combinations have varying tones as well as undertones. You should ensure the colours work in harmony after application. If you discover they are not working, then you should opt for different colour combinations. The different combinations can come in the form of shades, kitchen accessories, tones among other combinations for you to create a unique combination which works for your kitchen. If you are not sure of the colours you are about to apply, then you should ask for advice from experts. Your kitchen should be as colourful as you will wish. It should be impressive for you to enjoying working in it.
Stunning gloss kitchen design ideas
Gloss kitchen cabinets can create a stunning kitchen look, and you can tailor them to suit individual's taste. Having a gloss kitchen, handle free door, you can achieve a highly distinctive look. The lustrous shine ensures you have an inviting kitchen feel that reflects light. It also creates a contemporary look with clean lines. Proper application of gloss in your handle less fitted kitchen cupboard doors can provide a sleek look which suits your kitchen and home.
Contemporary gloss finish kitchen ideas
There are different gloss kitchen options available. They differ in both price and look. They bring a high quality appearance to your kitchen.
Gloss kitchen cabinet colours
The gloss kitchen cabinets are available in different designs to choose. You can go for light, bold, dark and neutral. You can easily locate a kitchen colour to suit your needs after you decide to explore different cabinet colour options. The colour can meet any personal taste as well as style. Popular kitchen colours include: grey, cream and white. There are also variants of different gloss colours available.
Handle less Gloss kitchen doors are easy to clean
People don't love cleaning their kitchens. The hard stains which develop on the kitchen surface make the cleaning process hectic. But, the gloss kitchen cabinets don't develop hard stains; hence they are easy to clean. You should try and maintain your kitchens original appearance. The gloss handle less cupboard doors are easy to clean. A simple wipe allows you to clean a gloss kitchen cabinet, the only item you need to maintain your kitchen door appearance is a damp microfiber and an anti-scratch cloth.
Gloss kitchen cupboard doors make a room feel bigger
If you will like to enhance the look of your kitchen and make people feel like the kitchen is space is enough, then you need to employ the gloss touch. The light colours are effective in enhancing the space within the small kitchen spaces. The gloss kitchen cupboard doors come with a light reflective quality which proves beneficial for homeowners. Light hits the gloss of the kitchen cupboard doors and reflects. It reflects both natural as well as artificial light. The reflection of light across the room creates a feeling of a spacious kitchen. The effect of making rooms appear spacious makes the gloss doors ideal for smaller kitchens. If space maximising is a crucial role in the fitted kitchen design, then you need to pay attention to the gloss kitchen doors effect.
Gloss kitchen cabinets make a room feel brighter
The reflection from high gloss kitchen doors makes your kitchen room look brighter. Just the way the reflective property can make the room look bigger; the effect can also make the rooms look more contemporary. The reflected light bounces on different surfaces in the kitchen making the kitchen stay brighter. A white gloss kitchen cabinet works well in enhancing the effect of well-cited lighting options.
Gloss kitchen doors hold widespread appeal
A new kitchen is expensive to build in your home. In terms of adding value to your property the kitchen and bathroom are central to getting a good price. Investing in a new fitted kitchen design knowing the cost will be later reflected in your home selling price makes perfect sense. Different kitchen designs will work for different people, but after you go for a gloss kitchen cabinet, then you are assured of appealing to a wide range of potential buyers in your selling process. The design of your kitchen can add value to your home.
Lucente Cashmere laminate gloss kitchen cabinets
The visual impact of different gloss cupboard doors varies. The best gloss kitchen should stand the test of time. Our lowest grade of gloss finish is the laminate gloss kitchen door. The material undergoes an intense finishing process to ensure it is temperature and water resistant. The tests are essential to allow the materials withstand everyday uses in the kitchen. The laminate gloss materials are built for easy maintenance, longevity, and aesthetic appeal.
Gloss kitchens are versatile
The kitchen gloss cabinets are versatile and work with different colours as well as finishes. If you are looking for a beautiful fitted kitchen, then gloss cupboard doors are a sensible option. They make a beautiful and luxurious kitchen design. They have an visual appeal which can be mixed and matched with other kitchen materials and finishes. Even if you are looking for subtle contrast or bold distinctions of colour and texture, the gloss kitchen allows for the creation of personal and unique designs.
Any colour providing it's Cream, White or Grey Kitchen
Remember a time when the major European kitchen brands came to the UK with a dazzling array of colours. Brilliant yellow, lime green, post box red, azure blue – the colour palette was endless.
At the time the typical UK kitchen was a rather conservative white, cream or timber effect with contrasting worktops. Now it would appear that the kitchen industry has had a rethink and we have abandoned the colourful kitchens and have gone full circle.
Open up any kitchen or home improvement magazine and you can't fail to notice that white, cream, duck egg blue and grey are now the dominant colours for the fabulous kitchens. The brilliant splash of colour is provided by the appliances and accessories. Range cookers, fridge, appliances, splash backs, tiling – this is now where the key colour is contained.
To accentuate these islands of colour, the use of natural light and mood lighting is now almost an essential in the kitchen. To let in natural light the advent of the Bi-fold door, floor to ceiling windows and the roof lantern has revolutionised the way we flood light into the kitchen. For kitchens where space is at a premium and natural light is not possible we create a more subtle mood lighting effect by inserting lights under cupboards, floor level plinth lighting, down lighters, up lighters and spots.
The new wave of neutral kitchens act as a foil for these colour and light splashes, producing a calmer more reserved environment. A place to spend time, to sit and read, to iron, watch TV – whatever you do in the space the Kitchen is the central structure.
Although we are almost apologetic in our acceptance that the dazzling colour has gone from our kitchens, what we have substituted should not be underestimated. We refer to these colours as white, cream, duck egg blue and grey – the reality is that there are now countless variations of these basic colours. No one really understood how many variations were possible for a grey and white kitchen until the designers got to work. Today you could chose endless variations, whites with a subtle hind of an under colour, greys from dark and moody to the lightest of tints. Each effect is different and the use of colours creates the effect.
For many homeowners who are creating specific areas within their home, a gloss painted kitchen offers a really individual touch where the entire room can be colour coordinated with virtually any colour from light pastels to rich vibrant colours. The style of kitchen is down to choice. Conventional shaker style for a period feel, a more contemporary look with flowing curves – whatever the style a unique matt hand painted finish will enhance it.