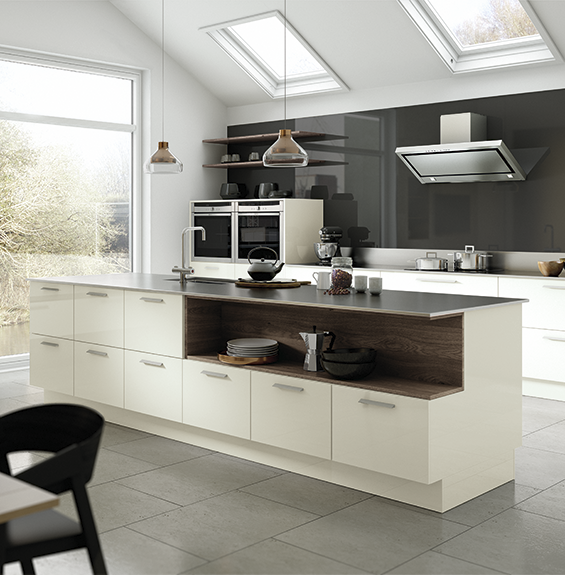 Leaf through the pages of lifestyle and interior design magazines, exploring the homes of style icons and design gurus, and you're transported to a world of elegance, lustre and exotic locations.
On Trend Kitchens may not be able to whisk you away to sun-kissed foreign shores, but our new On-Trend collection boasts all the quality, craftsmanship and style, distinctive of such celebrated homes.
Deceptively understated in appearance, the On-Trend collection features a wealth of style and storage innovations that challenge accepted notions of domestic kitchen design.
Gently flowing lines; a palette of versatile, contemporary colours; and a choice of tactile finishes make the On-Trend collection a perfect pairing for homes, traditional and modern. Our comprehensive suite of handles, lighting and enclosed wirework storage are the icing on the cake!
Our team has more than 100 years combined experience in kitchen range design, manufacture and trading. The On-Trend collection represents the culmination of that expertise: our flagship collection, produced in the UK and Italy, with bespoke measurement and finishing options available on many lines. We hope you enjoy browsing the range as much as we did creating it.
---
Here to help
To help you navigate this website, we have used a system of symbols to highlight some of the key features and benefits of the On-Trend collection:

Italian Products
Products shown with this symbol are made in Italy.

Made to Order
Many of our doors can be made to your required sizes, colour choice or a combination of both.

Premium Timber
This symbol denotes doors that are made from real wood or real wood veneers.

Colour Matching
This symbol indicates doors that can be produced in any colour. If you have a sample of a colour you like, we can match it.

Curved Doors & Profiles
Many of our door ranges are now available with external curves and profiles.
Curved Doors & Profiles
Many of our door ranges are now available with internal curves and profiles.