Planning a new kitchen layout: don't just 'live with it'; love it!
Our On-Trend Kitchen Collection has the versatility, looks and longevity to grace any home for years to come. And, as you're unlikely to choose more than two or three new kitchens in your lifetime, that's important.
The kitchen is the hub of home life; a creative and practical domain that serves up a demanding set of criteria for first-time designers and professionals alike.
That's why we have included our kitchen layout design tools to allow you to plan and design the perfect kitchen to suit your space and family. You will soon find out what is possible and what isn't. When you have created the kitchen design that suits your room, our professional kitchen designers and planners at our retail partners will turn your ideas into the kitchen of your dreams.
On-Trend represents our highest quality, most wide-ranging and stylish kitchen collection to date. Here, we guide you through the factors that will help you translate our cabinetry, lighting, storage solutions, and fittings into the perfect kitchen for your home.
The Process
With so much to think about when it comes to kitchen design, we've broken down the process; listing the main things you should consider each step of the way.
Before you start, plan!
Decide what you like in a kitchen, and what you don't. A great place to start is to look at your current kitchen and identify the things you'd most like to change. Set a clearly defined budget – including contingency – which is both practicable and realistic. You need to know how much money you want to spend and trust that our retail designers will deliver exactly what you want for your budget.
Be inspired
Stuck for ideas? Struggling to visualise how a particular design might look in your home? Home style magazines and websites are a great source of inspiration; packed with knowledge, images, new products and expert opinion on current trends, classic styles, and their benefits and pitfalls. For the ultimate in ideas go through the On-Trend consumer brochure, this will excite and inspire you.
Choose the kitchen style and finish to suit you and your home
The On Trend kitchen collection features the very best craftsman kitchen solutions the industry has to offer. Why not consider a striking high gloss minimalist design for the more modern interior, beautiful shaker styles for the more traditional home, curved doors to provide a flowing design a totally bespoke painted colour to match your personality – with the On- Trend range anything is possible.
Check what's possible
Be realistic about what you can achieve within your budget.If your design involves alterations to the fabric of your home – knocking walls through, for example –you may need an outside building contractor. The professional kitchen designers in our retailers will take care of everything to do with the kitchen designs.
Our retail planners will write a schedule for your project
Our retail kitchen specialists will provide you with a clear idea of when each step in the process will happen, allowing you to plan accordingly.Our specialists will manage your project from start to finish allowing you to concentrate on other things. A structured plan will determine the 'lead' time on your kitchen; design process, pre install preparation works, kitchen manufacture and install lead time and appliances. Your On- Trend showroom project manager will advise you on all of these dates to ensure your timeline is adhered to.Our trained professionals will sort the factors that make a kitchen installation successful: allowing for your power sockets, doors, windows, lighting and plumbing points – where these will be located.
Other vital considerations when planning a new kitchen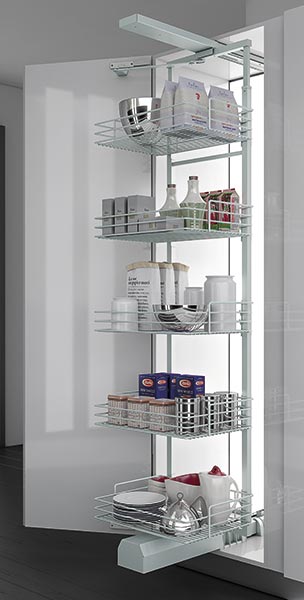 Storage: What do you keep in your kitchen?
Besides the obvious – food, appliances, crockery and cutlery, for example – you probably store a lot more in your kitchen than first meets the eye. The On-Trend range offers a host of exciting storage solutions that will make your kitchen seem bigger and work better.
Modern kitchen storage solutions
There's more scope to achieve your ideal kitchen storage layout nowadays than ever before.
Kitchen designers are continually coming up with increasingly sophisticated ways to stow away unsightly white goods, or incorporate them into the overall design. Modern wirework, carousels, and slide-out shelving have maximised storage space for everything from spices to cleaning products; making the most of hard-to-access nooks that formerly would have gathered dust. On the kitchen Collection pages on this website you will see some of our storage options under the hot spots indicated.
Need some help in planning what you need and where? Try thinking about your kitchen working triangle.
Split-level storage: Top, middle or bottom?
Have you considered designing elements of your kitchen specifically to suit your stature?
The old, unwritten rules of kitchen design seemed to dictate that an oven must be impractically located at ground level; Yorkshire pudding tins and other rarely used paraphernalia should be precariously stacked in hard-to-reach upper cupboards; and cleaning products or a tiny, overflowing bin would be stowed as an afterthought, beneath the sink.
Thankfully, those days are gone and there are opportunities throughout modern kitchen design to make the available space 'work' for you. So, identify the layout that's most comfortable for you, and investigate – personally or via your kitchen designer – the solutions that meet your needs.

The kitchen working triangle
Think about your time working in the kitchen and you'll realise that you move between three main areas of activity:
the sink / worktop
the fridge
the cooker
Kitchen designers call the space between 'the working triangle', and aim to make movement between the three 'points' as short, direct, and unhindered as possible, increasing your efficiency.
As the sink is often the least practical of the three areas to relocate, you may consider using it as the starting point around which to plan the rest of your working triangle.
Make sure your kitchen designer is aware of your personal family circumstances such as any disabilities or small children where you may need to have a greater awareness of safety.
Make the most of your space
The On Trend range of units and storage solutions can make even the smallest, most awkwardly shaped kitchens surprisingly usable in practice.
We've applied the working triangle theory to each of the kitchen layouts below, to give you an idea of how they may work in your own home.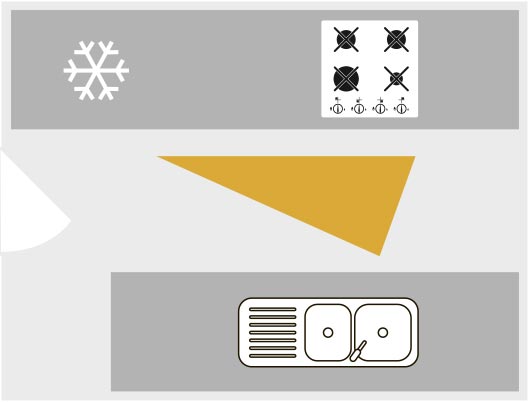 Galley
In long, narrow kitchens, internal storage solutions can help to keep worktops less cluttered, instilling a greater sense of space.
Ensure the oven and fridge do not directly face one another to avoid clashes between doors, and kitchen users. Use plenty of effect lighting to ensure there are no dark spots across the kitchen length.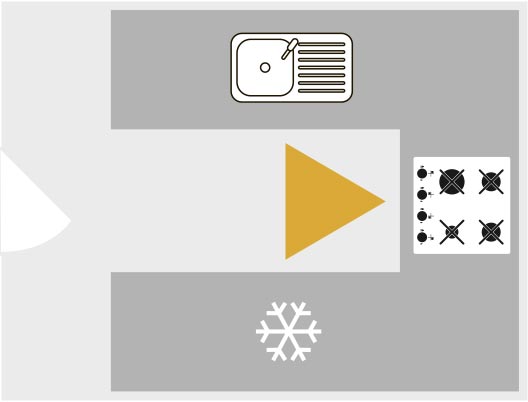 U-shaped
Make the most of the available cabinet space with On Trend pull-out and carousel storage in hard-to-access corner cupboards.Minimise congestion by locating the fridge to one side of the U-shaped opening.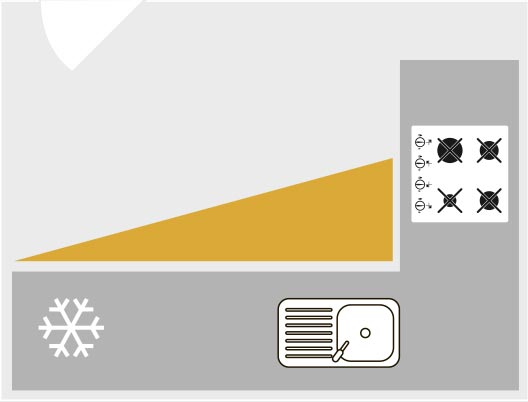 L-shaped
L-shaped kitchens naturally have an open feel – even allowing you to add an eating area to larger spaces before they start to feel too enclosed.Pull-out and carousel storage can help to make the most of corner cupboards.Keeping one wall free from cupboards can help to retain a spacious feel in smaller L-shaped kitchens.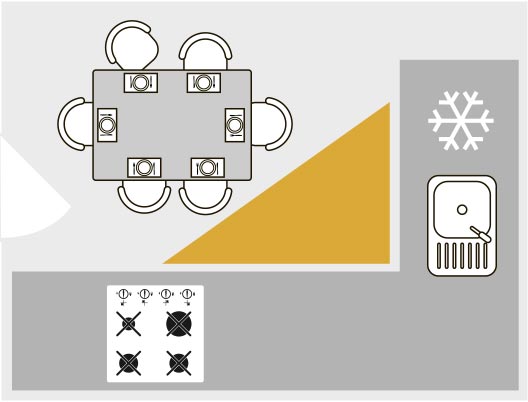 Open plan
Open plan layouts are ideal for combined kitchen and dining rooms.To avoid congestion, cutlery; crockery and glassware should be stored close to the dining area.Specially chosen low-noise appliances (e.g. dishwashers, washing machines, and extractor fans) should be used to minimise distractions when using the lifestyle space as a reception / dining room.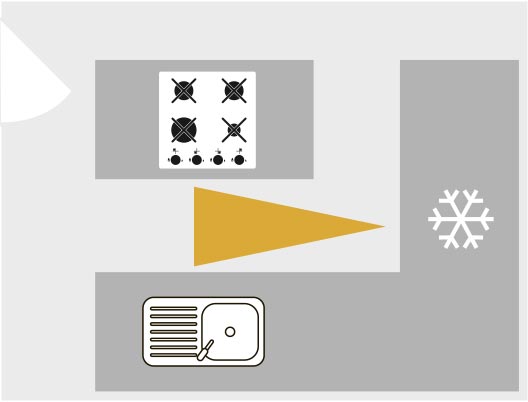 Island
Islands are great in larger kitchens, enabling you to interact with guests while preparing a meal, and acting as a barrier to keep unwanted intruders out of your working area!They can help to create a tight and efficient working triangle, but it's important to make sure the space between the island and other working areas is practical and safe.
Lighting

Modern kitchen lighting examples of which can be found on this website, serves two main purposes:
Illuminating important areas such as the sink, hob and work surfaces, for practicality and safety.
Complementing and enhancing the aesthetic of the room by creating mood areas.
Generally speaking, dining areas benefit from softer lighting than working areas.
What are the size and design options?
Modern kitchen lighting comes in a variety of shapes and sizes, tailored to various applications.
Built in
Lighting built in underneath cabinets, above worktops, and at floor level is great for focusing light onto small areas, and generally enhancing the mood of your kitchen.
Ceiling down-lighting
Down-lighting at ceiling level achieves a similar effect to built-in lighting (see above) but illuminates a far broader area. Track and spot lighting are particularly versatile, enabling you to highlight particular work areas or even artwork on your kitchen walls.
Feature lighting
Incorporating feature lighting into glass cabinets or shelving, for example can be both stylish and add to a sense of space.
Natural light
Windows and skylights provide a welcome source of natural light in any room.
Traditionally in kitchens the sink is located next to the window, but a good source of artificial light will serve just as well, giving you more freedom with your layout.

Colour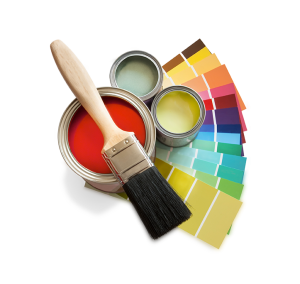 Think about the long term
Fitted units, worktops and flooring are among the most 'permanent' elements of any kitchen, and therefore will be central to any colour scheme. It is crucial to ensure you are comfortable with their shades as they will form the basis of your kitchen colour scheme, regardless of whether you choose to redecorate your walls or re-accessorise.
Keep it simple
We recommend that you use no more than three main, complementary shades in your colour scheme. Avoid using only one colour however, as this can leave your room feeling flat and lifeless.
Floors and walls
Combining different colours, textures and materials can be very successful for kitchen flooring – particularly if you have separate 'zones' for work and dining. Maintaining a single shade across all walls though, will help to unify the look of the room.
Try before you buy
Why not 'audition' a few accessories around the kitchen in the colour/s you are considering using, so you can judge their effect before fully investing in those shades?
White
Ideal for smaller kitchens; makes the space feel bigger.
Avoid pure 'brilliant' white alongside 'off' white shades, as the latter will look dirty.
Great as a background shade to 'pops' of colour (e.g. 'feature' painted areas, objets d'art) or contrasting textures (e.g stone, fabric, pottery, cork etc.)
Pastels
Experiencing a boom in popularity, particularly warmer shades.
Great longevity: easy to live with, and less likely to go out of fashion than many bolder shades.
Bold shades
Accents of bold colour (e.g. units, splashbacks, accessories) make a strong and vibrant announcement that you're not willing to 'play it safe'.
You may consider pairing bold shades with a gloss finish, to ensure that light is not absorbed and can still reflect around the room.
styles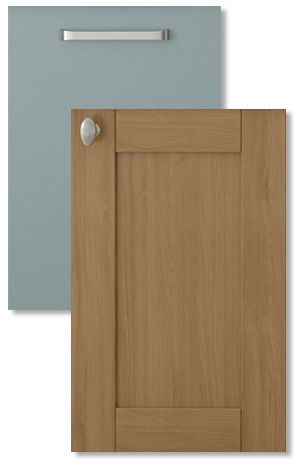 The style and period of your home can have a great bearing on which kitchen choices fit most naturally into their surroundings. Here are some cues on reinforcing your home's chic or natural vibe in the kitchen.
Chic
The clean lines of selected kitchens from the On Trend range help to create a minimalist feel.
Choose handle-free cabinetry and touch-operated appliances for a free-flowing style
Keep your worktops clear and clutter to a minimum with cleverly incorporated modern storage solutions.
Natural
Wood is a great material for creating a natural feeling of warmth in both modern and traditional settings.
The great range of shades and grains available makes wood a particularly versatile material, from classic and understated to daring and dramatic.
It is important to continue the same wood finish of any existing furniture – dining tables and chairs, for example – throughout any wooden surfaces in your kitchen.
Surface Materials
This is the hardest working surface in your kitchen so please discuss this vital issue with one of our retail designers they will guide you through the alternatives. The following is a list of some of the more popular options.
Laminate
Pros
Affordable and popular
Hard wearing
Hygienic and easy to maintain
Available in standard and gloss finishes
Huge variety of colours available
Wood and stone effect finishes offer 'the look' at a fraction of the price
Cons
Gloss finishes are more likely to show scratches
Susceptible to chipping and scorching
Potential to discolour or 'lift' around sink over time
Granite
Pros
Luxurious look and feel
Each piece is unique
Becoming more affordable
Durable and heat resistant
Easy to clean and maintain
Cons
Expensive
Heavy
Susceptible to staining by acidic liquids (e.g. red wine)
---
Composite stone
Pros
The looks of natural stone but more flexible
Can be shaped with heat – seamless
Non-porous – no sealing required
Variety of colours and finishes
Durable
Heat and stain resistant
Scratches can be sanded out
Cons
Corian
Pros
A manmade blend of natural minerals with acrylic
Similar looks to stone
Easily shaped to create a seamless worktop
Hard wearing
Hygienic
Heat and stain resistant
Low maintenance
Scratches can be sanded out
Cons
---
Glass
Pros
Chic and contemporary
Seamless and therefore naturally hygienic
Reflective – adds to a feeling of space; great for smaller kitchens
Toughened; durable
Long lasting
Heat and water resistant
Cons
High maintenance – prone to smudging and requires regular cleaning
Expensive
Stainless steel
Pros
Commercial kitchen style can look great in your home, particularly softened with wood
Strong and durable
Hygienic and easy to clean
Waterproof
Heat, acid and stain resistant
Cons
Industrial look isn't to all tastes
Susceptible to scratching
---
Quartz
Pros
Engineered stone, typically 93% quartz and 7% polymer resins
A lower maintenance alternative to granite
Durable
Non-porous, so no sealing required
Hygienic and easy to clean
Stain resistant
Cons
Expensive
Heavy
Can discolour in sunlight over time
Likelihood of visible seams